General & Cosmetic Dentistry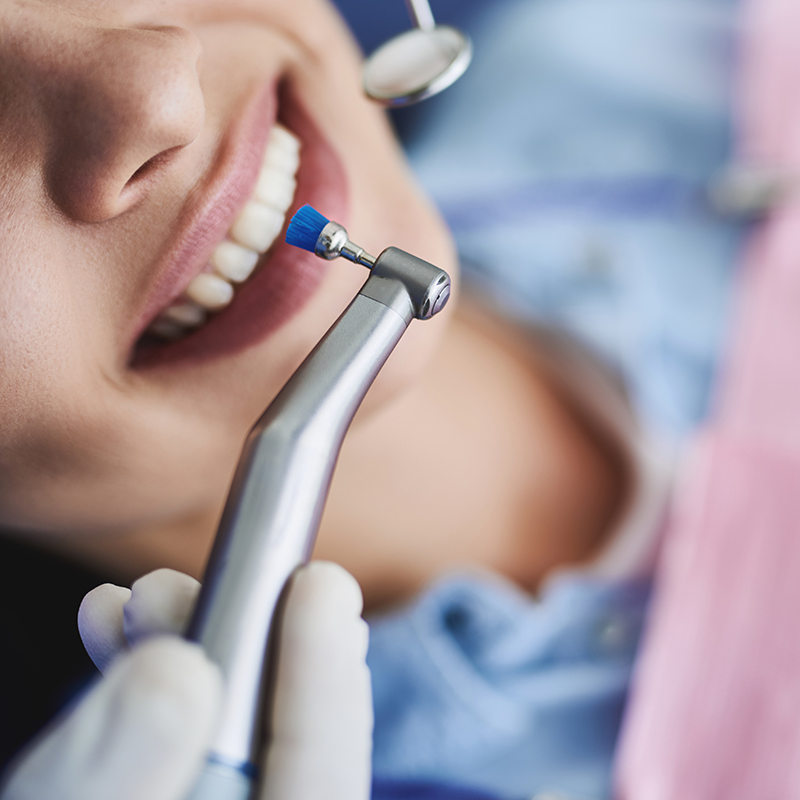 Tooth-Colored Composite Restorations
The day when only ugly metal fillings could be used to treat cavities and tooth damage has long since passed. For a stronger, more natural-looking result, new, tooth-coloured fillings composed of strong resin can be bonded to your teeth. Composite fillings can be completed in a single appointment and are essentially unnoticeable.
Dental Bridges
A dental bridge replaces one or more lost teeth using a succession of crowns. Our dentists employ bridges to cover any gaps caused by missing teeth. Bridges are held in place and supported by two crowns that are positioned on either side of the opening. Once it is in place, your bridge will fill in the gaps left by the missing teeth, complete your smile, and return your bite to normal.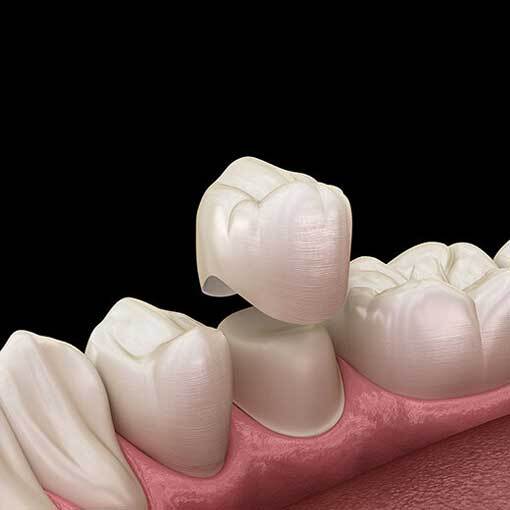 Dental Crowns
Infected, decayed, discoloured, or damaged teeth can be restored using dental crowns. Our dentists advise using crowns to cover the damaged tooth's existing structure. This is done to give you back a full and healthy grin by restoring its shape, strength, and functionality. You may take care of your crown exactly like you would a natural tooth.
Same Day In Office Crowns
At Rosetown Dental we scan, design, mill and deliver single-visit restorations made from BruxZir® Zirconia an industry-leading material. This state-of-the-art technology makes it simple to provide patients with high-quality crowns with the convenience of having it done in one appointment.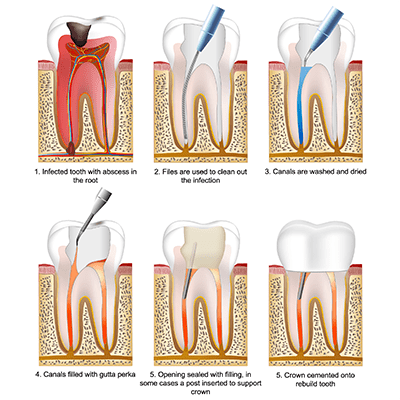 Root Canal Therapy
Each tooth's dental pulp, which is located in the centre, has a nerve that extends from the tooth's root and supplies the tooth with essential nutrients. The pulp inside a tooth will die if it is harmed, decayed, or infected. By keeping the tooth in the mouth, root canal therapy can salvage damaged teeth by removing the tooth's nerve tissue.
Teeth Whitening
Your smile is one of the first physical characteristics that people will notice, so we want to help you restore its radiance, youth, and self-assurance. To provide our patients with the best choice, Rosetown Dental offers two different whitening options: in-office or at-home.
Read More
At–Home Teeth Whitening: If you want professional strength whitening in the comfort of your own home, we offer custom-made whitening kits for our patients. With this option, we will take impressions of your smile to create personalized whitening trays. Then, you will go home and apply our whitening gel to the trays and wear them for about 30 minutes each day. After a few weeks, you will notice beautiful whitening. This treatment is not only stronger than in-store products but it is also designed to fit your specific smile for the most even and effective results.
Porcelain Veneers
Porcelain veneers are used to fix teeth that are deformed, chipped, crooked, or discoloured. With specially constructed dental veneers, you can significantly alter the size, shape, or colour of your teeth in as few as two visits to our office. The front of your teeth are covered with extremely thin porcelain shells called veneers. When placed in a healthy mouth with appropriate oral hygiene and frequent exams, veneers can be a long-lasting solution.
Bonding with the Bioclear method
Bonding uses a white filler material to fix cracked, malformed, and discoloured teeth. At Rosetown Dental, Dr. Maedel is educated in the Bioclear process of bonding.
Read More
Advantages of Bioclear Matrix Method
Costs less than porcelain veneers
More durable and long-lasting than traditional dental bonding.
Minimally invasive than veneers as it does not require scraping off a portion of the tooth enamel.
Quick; can be completed in a single visit.
More stain resistant.
It Fixes dark triangles and other tooth irregularities.
Can be repaired when damaged.
Creates fuller, stronger teeth.
How does Bioclear Work?
Bioclear uses patented plastic matrices and composite resin that's colour-matched to your tooth. The clear plastic matrices are placed around the teeth and slightly under your gum. This is different from porcelain, which is moulded using a warm injection technique. These techniques strengthen the restoration.
The entire treatment is simple and produces a smile that looks natural and complete. The Bioclear Matrix System was developed by Dr. David Clark in 2007. This restorative treatment can rival and even surpass the results that bonding and veneers can deliver.
It gets rid of the unsightly black triangles between the teeth. It helps patients bring back confidence in their smiles.
Complete Dentures
When you have no remaining teeth, you can choose complete dentures, often known as "false teeth." The patient's bone ridges and soft tissues act as retention and suction to hold them in place. As a result, depending on their anatomy, each patient will experience a varied outcome. Complete dentures can be altered to match the size, shape, alignment, and colour of your natural teeth, or we can give you the smile of your dreams!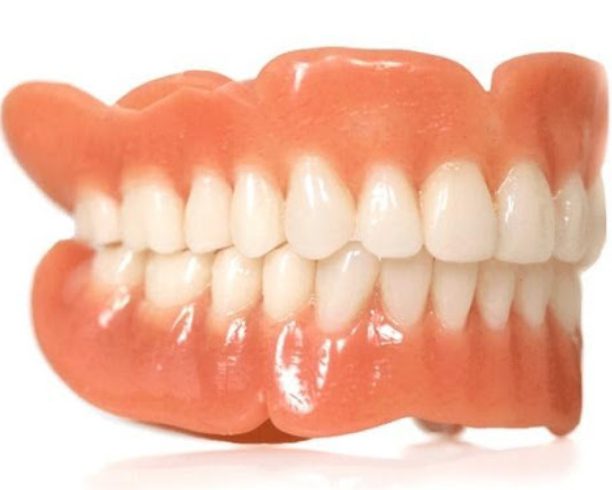 Immediate Dentures
Immediate Dentures are the best choice for switching from your natural teeth to dentures. Rosetown Dental has simplified the procedure so that you just need to make two appointments before getting a new smile. At the first appointment, we start the process with an intraoral scan of your teeth and gums. At the second visit, we remove any remaining teeth and fit you with dentures.
Partial Dentures
Cast Partial Dentures
The cast partial denture is the best alternative for replacing several lost teeth with a single appliance when patients still have a number of teeth that are in good condition, both in terms of their bone and gums. We can keep the denture as thin as possible while maintaining its strength thanks to the cast metal. In order to help the partial anchor to the teeth, we can additionally add clasps and retentive elements to the cast metal. Each of the many distinct designs is made specifically for the patient's mouth. The patient can receive cast partial dentures in as little as two weeks. The patient's remaining teeth and gums are scanned at the initial session, and two weeks later, your dentures are ready.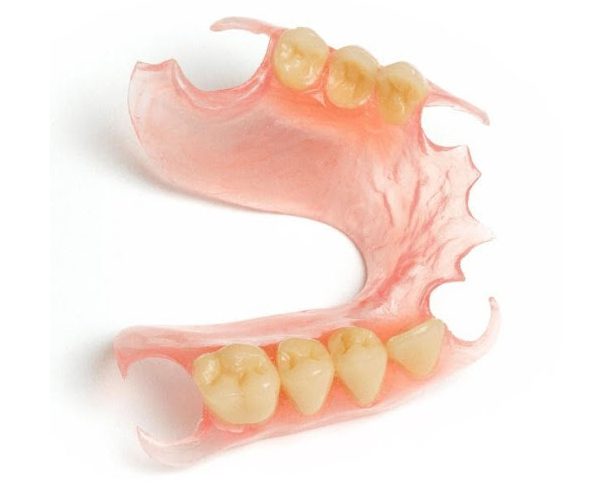 All Acrylic Partial Dentures
We provide a range of partial dentures made entirely of acrylic. Virginia Dentures and NaturalFlex® are two of the most well-liked.
Patients who don't want any metal in their partial denture have a lot of options, including the NaturalFlex® partial. The clasps are chosen to complement the patient's gums or teeth. Dentures made with NaturalFlex® are biocompatible, allergic-free, and monomer-free. They are among the strongest and most resilient non-reinforced materials while being extremely light. The patient's dentures might be ready in a week.
Read More
When a patient only has a few healthy teeth left, Virginia Dentures are an excellent option. These teeth may be periodontally sound and support the denture for many years. The remaining teeth have silicone gaskets surrounding them to aid the denture friction-grip in place. When patients desire a transitional denture that they may add teeth to as they need to be extracted because they are not yet ready to lose all of their teeth, Virginia dentures are a fantastic solution. Our patients' Virginia dentures will be available in a week.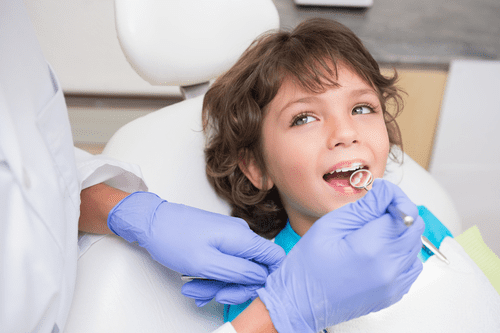 Pediatric Examinations and Hygiene
At Rosetown Dental, we are aware that your child's first dental visit will have a lasting impression on them. Every encounter with kids should leave them with a positive and fun memory.
The Canadian Dental Association advises having a child's dental health evaluated within six months of the eruption of the first tooth or by the child's first birthday. The objective is to get your child to the dentist before a dental issue arises. At Rosetown Dental, we place a high value on patient education. We are committed to educating you about the preventive measures you may take at home to maintain the best oral health for your child.
Sealants
The dental professional or dental therapist may advise sealing your child's permanent molars once they have them to prevent cavities. A type of plastic known as a sealant is applied to the molars' deep grooves on the chewing surface. The plastic plugs the tooth, preventing food and bacteria from becoming stuck there and causing decay.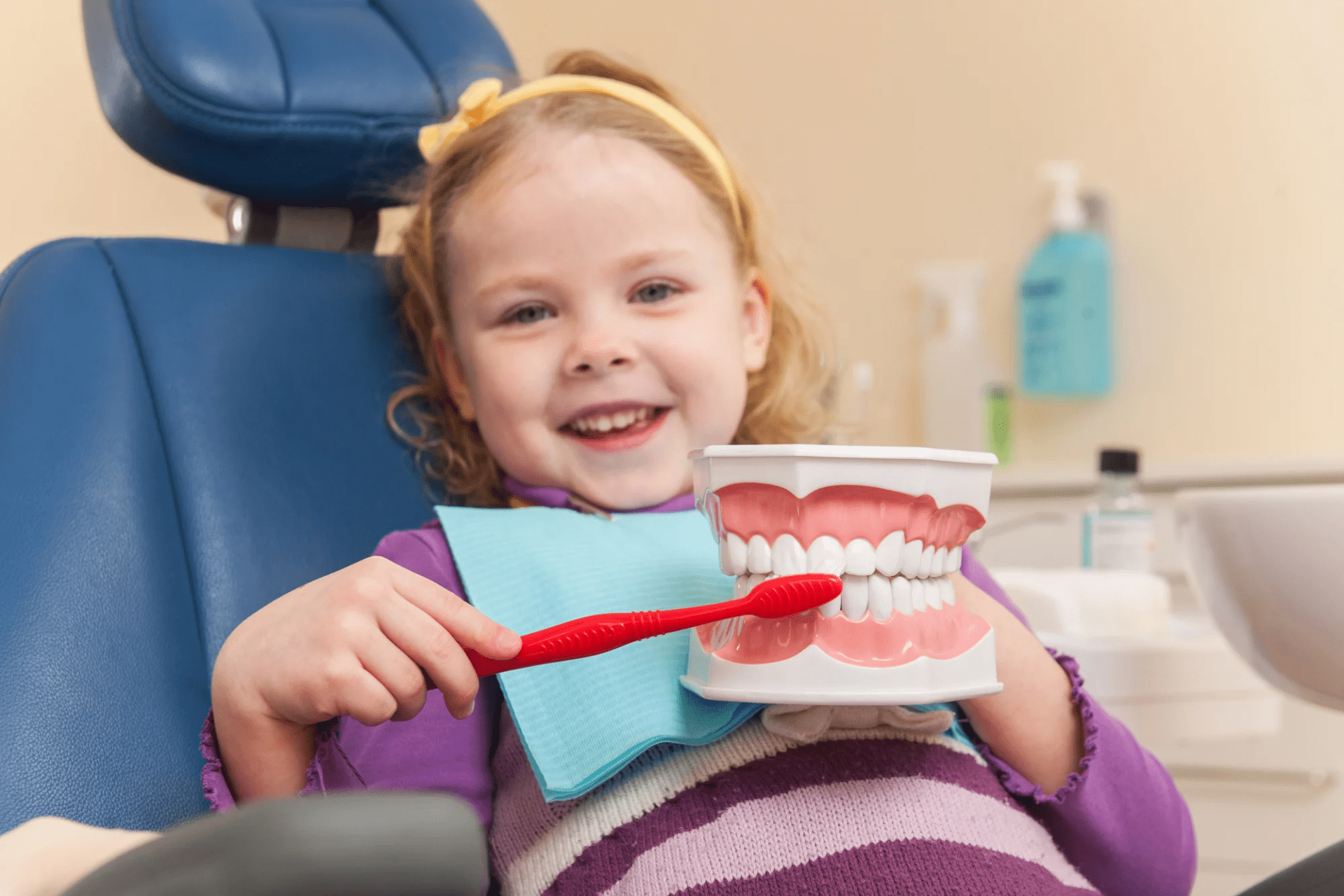 Pediatric Restorative Dentistry
When children's teeth need to be treated, we will work with you to create a unique treatment plan for your child based on their needs and preferences. Numerous treatment options are available from us, such as the application of silver diamine fluoride, composite fillings, stainless steel crowns, pulpotomy care, sealants, and space maintainers.
The Healthy Start Program
The HealthyStart® System is a strategy for opening the airway and straightening teeth WITHOUT braces that is non-invasive, non-pharmaceutical, and painless. Over 4 million kids have received treatment using HealthyStart®, which has been developed over 54 years of research and practice. The device accomplishes more than conventional orthodontic aligners and straightens teeth without the high cost of braces. The HealthyStart® System is made up of a number of gadgets that treat the signs of sleep-disordered breathing, which affects nine out of ten children. These signs frequently go undiagnosed or untreated, and they get worse as people age. Early treatment of these symptoms is the goal of HealthyStart® in order to facilitate their natural resolution.
Hygiene and Preventive Dental Services
Comprehensive Dental Examinations
At Rosetown Dental our exams are very comprehensive and include a complete assessment and documentation of medical and dental history, soft tissue and hard tissues, teeth and bite. During our exams, we are also screening for oral and head and neck cancer.
Learn More
Our thorough examinations include the following:
-Head and neck exam to look for infections or malignant or precancerous diseases.
-Oral cancer screening for soft tissue.
-Digital radiographs. With the help of digital X-rays, we can identify deterioration and other issues that aren't obvious during your visual examination.
-We'll examine your teeth to look for wear, fracture, and decay.
-We will evaluate your bite and dental alignment.
-We'll evaluate the condition of your periodontal health and gums.
-Because many illnesses and prescription drugs have connections to the mouth, we will check your medical history.
At Rosetown Dental, we advise routine dental checkups so that we can be proactive and address issues before they become serious and assist you in maintaining the healthiest possible mouth and body.
Comprehensive Periodontal Program
At Rosetown Dental, our staff is pleased to provide patients with a thorough dental hygiene program.
Your dental hygiene sessions may be referred to as "simply a cleaning." The truth is that during these appointments, much more than just teeth cleaning happens. Basic dental hygiene is the foundation of good oral health. While frequently flossing and brushing is a great place to start, a professional dental cleaning with a trained dental hygienist is necessary.
Athletic Mouthguards
Athletic mouthguards have been demonstrated to lessen concussion severity and frequency as well as damage to the temporomandibular joints (TMJ), teeth, gums, and surrounding jawbone. Additionally, mouthguards lessen the pressure and skull bone distortion that occurs when a force is applied to the chin.
Dental Splints and Night Guards
A dental nightguard, commonly known as a splint, can shield your teeth while you sleep. Numerous patients experience bruxism, a sleep disorder that makes you unintentionally clench or grind your teeth during the night. Usually, an uneven bite, tension, or worry are at blame.
Untreated bruxism can result in facial pain, headaches, earaches, pain and stiffness in the muscles around the jaw joint (TMJ), worn-down teeth, damaged teeth, and fillings.